Lidov & Block LLC, Personal Injury Attorneys Serving Chicago and its neighboring communities for over 30 years
| | |
| --- | --- |
| Posted on February 11, 2014 at 9:00 AM | |
More than 35 percent of all motorvehicle accidents occur at intersections, according to the National HighwayTraffic Safety Administration (NHTSA). In fact, the NHTSA reports that: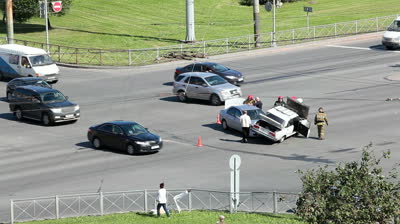 While only about 3 percent of intersection car accidents are primarily caused by poor weather conditions and/or vehicle equipment failures, more than 96 percent can primarily be attributed to some type of human negligence or error.The most common type of human negligence that contributes to intersection car accidents is a lack of proper surveillance of the vehicle's surroundings; specifically, this factor reportedly plays a role in causing more than 44 percent of all intersection car accidents.
Some of other prominent examples of human error that commonly contribute to intersection car accidents include false assumptions of other drivers' actions, obstructed views of an intersection or oncoming traffic, illegal maneuvers and driver distraction caused by objects within the vehicle.While male drivers of any age are the most likely to make illegal maneuvers that cause intersection car accidents, drivers of either gender who are older than 55 years old are most likely to misjudge other drivers' actions and/or the timing of making certain maneuvers (like left-hand turns) at intersections.
Drivers who are 24 years old and younger are most commonly involved in intersection car accidents that also involve distracted driving (with the use of cell phones while driving being a specific problem) and/or aggressive driving.When negligence and/or human errorplays a role in causing intersection car accidents – even if the role is small,accident victims can be compensated for their medical bills, lost wages,property damage and other losses by pursing a car accident lawsuit.
For a free consultation call Lidov & Block Personal Injury Attorneys at (312)782-2108.
Categories: Auto
/